Nomad takes the stress out of planning group trips. This app enables travelers to collaborate on all aspects of a trip, from drafting an itinerary to documenting and sharing the adventures that happen along the way. It recommends destinations, supports collaborative itinerary creation and organizes moments captured during the trip. 
Background
As an experience design challenge, I along with four other HCI Master's students decided to solve the frustration and chaos that comes along with planning a group trip. One of our constraints was to address this problem at scale & after several discussions, we decided to make an app. For this challenge, we conducted user research, analyzed the results and made informed design choices based on our findings. Our work was iterative and we created three prototypes that improved progressively both in fidelity and design decisions.
Problem Statement
Planning a group trip with friends is a disorganized activity filled with chaos & frustration which causes for a poor experience. How might we improve the experience so that friends can not only enjoy their trip but also be collaborative, incorporate everyone's preferences and cherish shared moments. 
Design Process 
Our design process consisted of understating the needs & operating circumstance of our targeted audience. Our aim was to craft our application such that it meets their requirements and leverages their current activities. We conducted fifteen in-person interviews to explore travel patterns and understand the frustration points of users when it comes to planning group trips. Later we synthesized our findings, incorporated them into prototypes and continuously refined them via user testing. 


Audience Profile
After our initial research, we found that our users are enthusiastic about using social media and sharing their travel experiences online. They preferred to travel in small groups, as opposed to large tour groups that often only catch glimpses of major tourist destinations. The users are organized and detail-oriented, and they form their plans based on their own interests, the wants of their travel partners and the recommendations of others.
Prototype - Round One (Low Fidelity)
This design emphasizes simplicity and focuses on the core feature of the application—creating a shared itinerary, thus fostering collaboration. As a preliminary step, destination selection is done via a search bar. Upon finding the desired destination, a screen provides a brief overview of the city in terms of reviews, photos and recommended places. Furthermore, the design offers provision to invite multiple friends. In addition, a feature to create common and private itineraries from a list of recommended activities. Every collaborator is provided a timeline created using the shared and common activity list.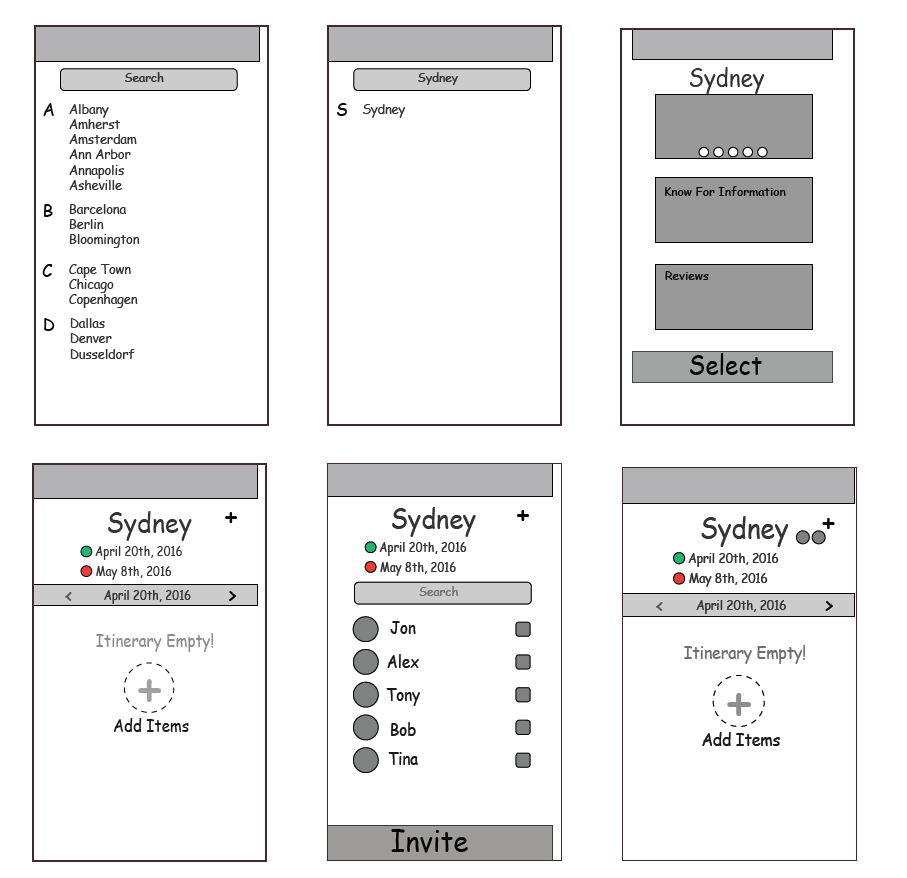 Prototype Round Two
This design focuses on simplicity and ease of use for its interface. Once a destination is selected, all of the major functions can be found in a central location on the homepage. A user can then decide to invite friends to their trip and collaboratively add to do items to their agenda. The design shows how it would look to add two friends to a trip and also how the collaboration looks for adding items to the list. There is a toggle button on the left corner of the screen that the users can click on to get a list of the top recommended spots for eating, exploring, etc. and add an item directly to the agenda if desired. Finally, a user can upload a picture and share it on their social media. The social media apps appear on the bottom of the screen when a picture is enlarged.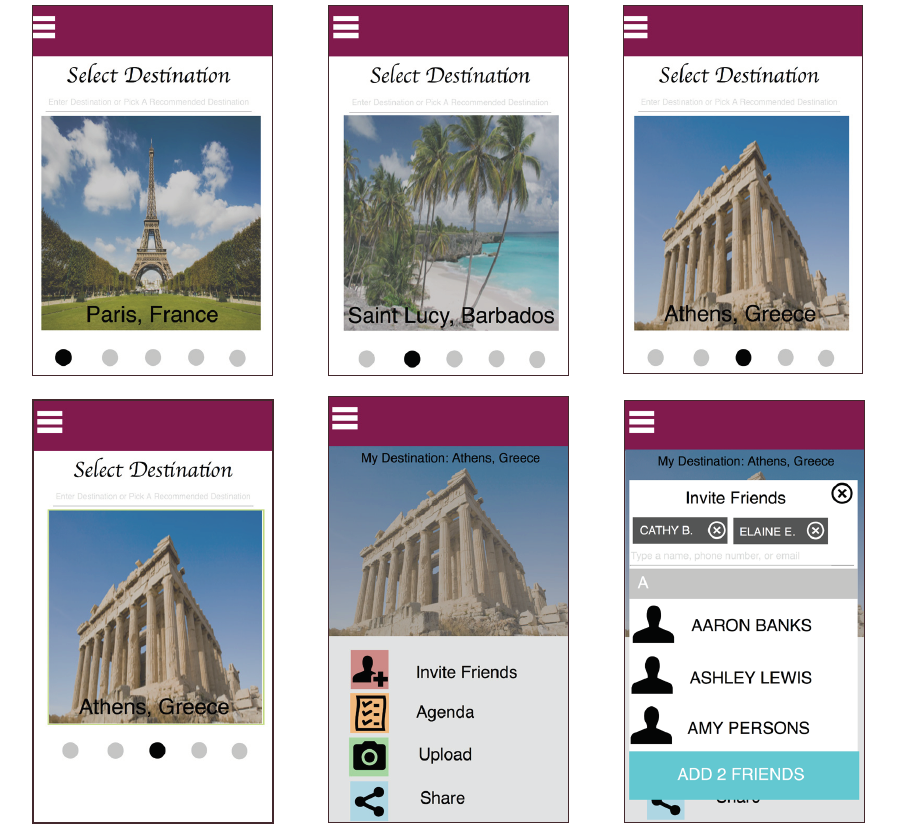 Final Prototype
This mockup uses a basic map as the main view. Multiple trips are located directly on the map view as markers so that users are able to find by trip locations. This design also includes a day view in one trip, and this day view will help group or individual to plan and organize their trip easily. Apart from plan trip, this mockup includes a "Moment" tab to let users recording their trip during their exploring. The "Moment" feature serves a function as sharing photo within the travel group, this feature gives everyone easy access to all cameras in the group. 
User Suggestions
a. Personalize recommendations - Feedback from multiple users in the usability study group suggests we need a personalized new trip suggestion system on the landing page. This feature would give users personalized trip recommendations that are based on their past trips, places, searches and personal preferences. 
b. Provide weather and price information - During the usability testing sessions, one user mentioned including typical weather and price information. We think this feature is essential for travelers to make decisions, and weather information and estimated cost are provided in the date selecting page to helps the user decide if the date is suitable for their trips and personal preferences.